The month we feature lead guitarist Bill 'Buck' Buckley!: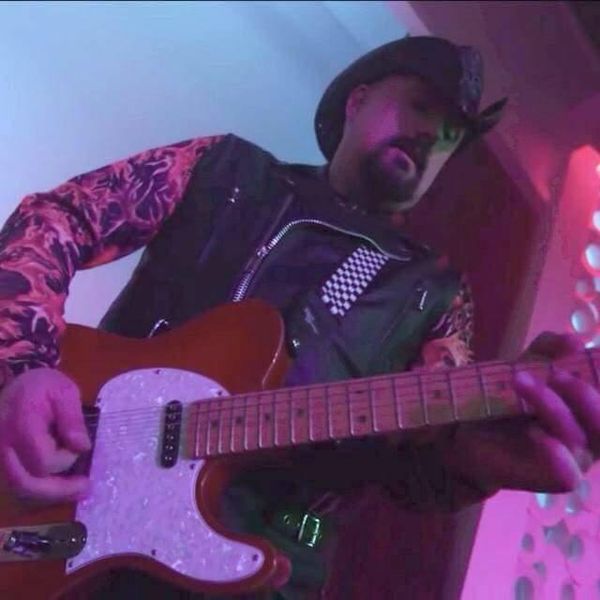 Get to know Buck: 
1. Name? William F. Buckley, Jr. 
2. What's your role in the SJB? I came to the band taking over Lead Guitar duties from the awesome (but as-then relocated) Rob Panarelli.  
3. Brief background?  I come from a Musical family where everybody played something.  The pressure was on me for years to "figure out" what I was going to play?  One day the kid across the street got his dad's guitar out and showed me how to play a KISS song. From there, I made it my goal to learn as much about the guitar (and music theory) as possible. I took guitar lessons from Day 1, and immersed myself in the world of music theory. I'm probably a "smarter" player than I am a "technical" player. 
4. Other Hobbies/Interests outside of music?  I am a hard-core Roller Coaster/Amusement Park Enthusiast!!  I've ridden nearly 2,000 roller coasters around the world.  I also have the distinction of having visited every major amusement park in North America!  When I'm not riding the rails, I like to engage in Equitation, such as Dressage. I wish my horsemanship was as good as my guitar playing! 
5. Favorite color? Camo. 
6. If you were stuck on an island and could only have 3 things, what would they be? A Les Paul, a 100wt Marshall Stack, and a 17.3HH Hanoverian. 
7. Who are your favorite bands?  Lannen (from Boston), The Rings (also from Boston), Aimee Mann, Queen, Journey, The Killers, 30 Seconds to Mars, Cheap Trick, Night Ranger, TNT, Shotgun Messiah, Racer X and guitar shredder extraordinaire Mrs. Smith! 
8. Who are you listening to today?  Savatage. 
9. Favorite Food?  I'm a fan of super hot/super spicy, so anything that gets me in that realm -- Szechuan, Indian, Mexican, whatever... 
10. What's your favorite gig with SJB so far? Without a doubt, it would be my "debut" gig with SJB.  It happened to be at a packed Loretta's Last Call in Boston.  After cementing my audition, I was given 45 songs to learn in a month's time.  However, there was no rehearsal between my audition and my first performance.  So in many ways I was completely flying by the seat of my pants!!  But I like working under that sort of pressure.  It makes me draw upon those musician skills I learned at Berklee.